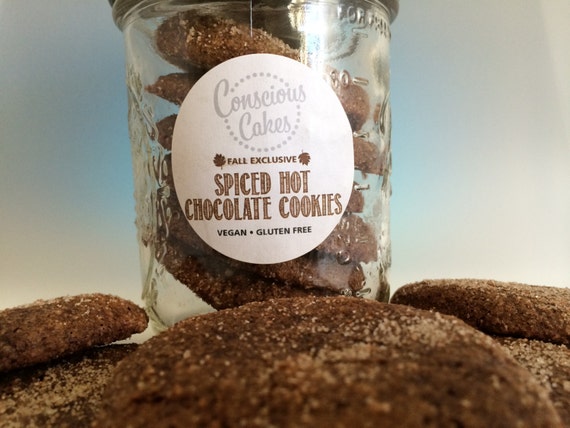 If you've ever been to our Etsy site before and looked at these cookies, you've seen the story about how I discovered the amazing flavor of mexican hot chocolate on accident. You've also probably seen me talk about how much I love these cookies…because they're amazing. No joke. They're deliciously chocolately and pack a subtle spiciness with the cayenne and cinnamon, but juuust sweet enough with the cinnamon sugar coating.
In order to highlight this superb combination of flavors, we've pulled together four mexican hot chocolate recipes from around the web so we could share them with you.
Enjoy!
1. Vegan Mexican Chocolate Ice Cream with Dulce De Leche Swirl from Pastry Chef Online
Other than the name being a little bit of a mouthful, this ice cream sounds amazing. Jennifer actually describes it as "rich, dense as "premium ice cream" and decidedly decadent." Someone better try this and tell me how fabulous it is.
2. Gluten Free Mexican Chocolate Cookies from Andersruff.com
This is a really interesting take on a cookie. She has replaced the flour with powdered sugar and cocoa powder. Because of this they come out a little flatter than regular cookies Additionally, she's used egg whites to give it that crunchy shell rather than leaving them soft. We'd suggesting substituting out some of the powdered sugar and cocoa powder for gluten free flour, adding in a little Xanthan Gum to give them lift, and then using a mixture of 1T ground flax and 3T of hot water to replace the egg whites. They'll be a little more fluffy and less crunchy, but no less delicious.
3.  Mexican Hot Chocolate Cupcakes from Lemon-Sugar
Since Lemon-Sugar is neither vegan nor gluten-free, these delicious cupcakes are packed with the usual suspects. Butter, Eggs, Flour, and Milk, and Heavy Cream. They've also chosen to use vegetable oil to keep the cupcakes moist. We'd suggest using applesauce for both the eggs and the oil, a gluten-free mix for the flour, and soy or almond milk to replace the milk. Replace the heavy cream by using soy/almond milk and either lemon juice or apple cider vinegar (1t per cup) — whichever you prefer.
4. Mexican Mocha Hot Chocolate from Cupcakes and Kale Chips
This wouldn't be a very good post if I didn't include some actual hot chocolate, would it? The recipe listed on the site is already vegan since she suggests using almond milk, but you can use whatever kind of milk you like best. She also includes a link to her own Mexican Chocolate Spice mix, but worry not if you don't have any because it's pretty simple: 2 parts cinnamon, 1 part ground ginger, and 1/2 part cayenne. You can adjust the ratios however you'd like to customize the flavors and make the chocolate more or less spicy depending on your own taste.
Let us know in the comments if you'd like to see us try a new flavor for next week! Since September is almost over, we'd also like to know: Which flavor has been your favorite so far — Pumpkin, Apple Cider, or Mexican Hot Chocolate?